Xunaan Ha - Renzo section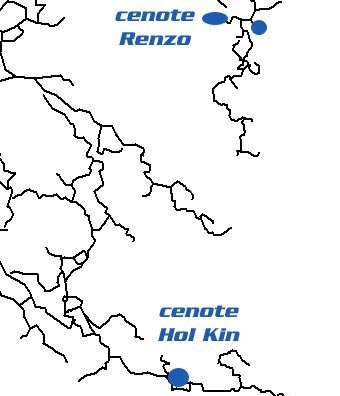 In April 2010, I started diving the cenote Renzo, located North of cenote Hol Kin.
Being west of the coastline of the Pleistocene, the water comes up against a "wall" of dense material and the flow is diverted to the north.
Even though there was a line already laid by a french team going downstream to the north, I found it more promising to continue exploring towards the south, since this was the directioon from which the water of the Hol Kin section arrives.
I was able to explore here 1300 feet / 400 meters of new passages, which were quite promising at the beginning, but the section started to divide into several branches, which became narrower and narrower.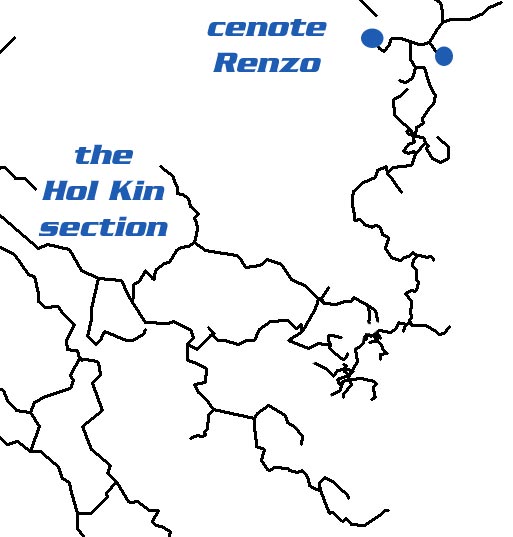 In May 2010, I invested a tremendous amount of time trying to find the connection between Hol Kin and Renzo, adding 2150 feet of new caves to the Hol Kin section and 760 feet in the Renzo system.
According to survey data, the distance between the two caves is only 4 feet, although a margin of error should be taken into the account.
I could see a serie of fractures in the material where the water was flowing from one system to the other, but there was no possibility to pass.
All the passages were very small and silty, and any minimum movement resulted in an almost complete loss of visibility.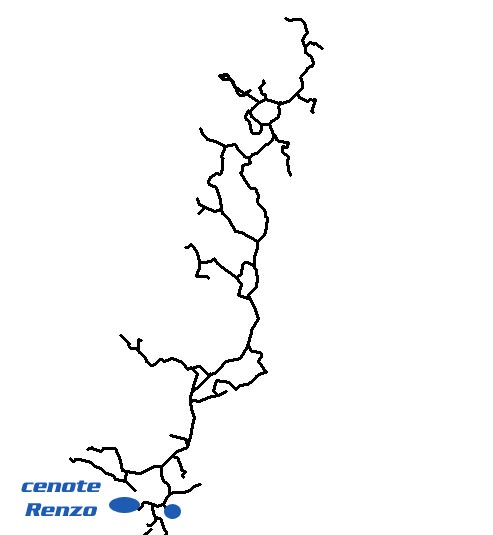 Between July and September 2010, I focused on the exploration of the down-stream section of the system.
The cave runs along a ridge on the east side with few break downs with gas pockets on the top, while on the west side all the passages end in unstable bedding planes.
I explored 5662 feet / 1726 meters of new caves. Going towards the north, the water flow slowly disappears, as the water filters into very small holes in the eastern ridge. The last two branches of the system are richly decorated.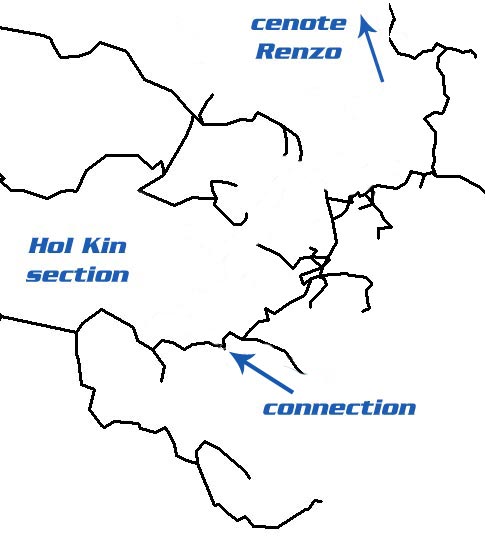 In October 2010, I asked a colleague to dive the upstream and take a fresh look, as I felt I was repeatedly looking for a connection in the same place. He explored a passage further to the south for 170 feet, until an area close to another branch of the Hol Kin section.
The size of the passages is very small, and visibility is reduced to zero with minimal movement.
On October 20, 2010, coming from Hol Kin, I singled out a small gap in a wall; after 92 feet navigating it, including 2 major restriction, I finally found the connection between the two systems.