Casa Arianna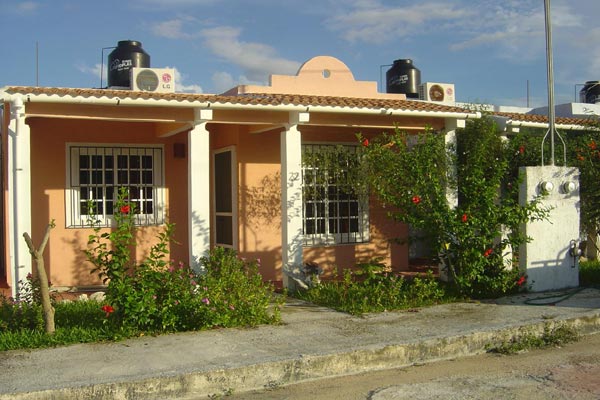 Located in the expat community of Chan Chemuyil, we are able to offer a cozy furnished rental house that will comfortably accommodate four people. The floor plan of this charming home contains two bedrooms, a living room with adjacent kitchen and bath room. It measures 60 square meters (645 square feet).
All rooms are air conditioned and the kitchen is fully equipped with a large refrigerator/ freezer unit as well as a stove and everything that is needed to prepare meals.
The house is located a short 45min car ride from Cancun airport in the middle of a cave divers paradise. The main entrance of Xunaan Ha is just half a mile away, Koox Baal cave system is about 4 miles away in the jungle, Dos Ojos cave system is 3 miles away to the south; the three Systems total 130 miles of underwater caves, making the house the perfect place to launch your cave dive adventures.
But this place is also a great place for non divers. One of the most beautiful beaches of the Riviera Maya is only 10 minutes away by foot. Playa Xcacel offers not just white sand and a relaxing quiet atmosphere, but it also has a cenote nearby for a quick rinse after a swim in the ocean!
Experience authentic and budget friendly local cuisine, just a short stroll away in the town of Chemuyil or take a short drive to Tulum, about 15 min by car to enjoy a wide variety of restaurants and bars with their nightly entertainment!
The Mayan Ruins of Tulum are a must see destination and again are just a short car ride away.
Furthermore, many activities are available in the area and within a short distance. Various watersports, golf courses and adventure parks, just to name a few.
So stay with us and see the Yucatan's attractions and best kept secrets, but also experience the flavor of Mexican life, right in the middle of a cave diver's paradise!
Reserving online will allow you to take advantage of valuable offers, so book today!!
Directions
From the Cancun International Airport take the Federal Road 307 and drive in the direction of Tulum for 98,5 Km, passing the towns of Puerto Morelos, Playa del Carmen, Puerto Aventuras, Akumal pueblo.
Just 500 metres after the access of Ciudad Chemuyil take the road to the right (is the first one after the Chemuyil's bridge), and you will see the neighbourhood of Chan Chemuyil to your left. Take the second road, Calle Cuba and drive to the last block, the sixth house.