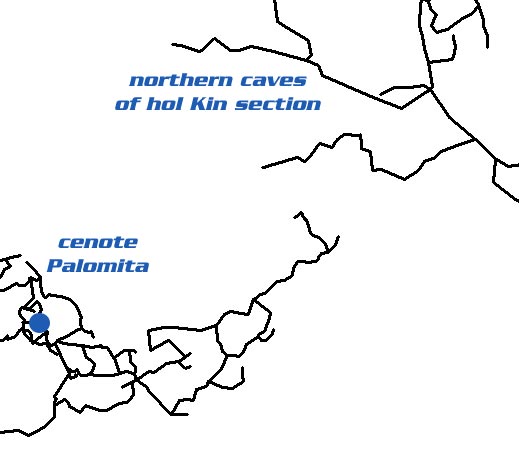 Given the proximity of the northern caves of the Hol Kin section, in November 2009 I decided to check for the existence of any caves going East or North-East from the cenote Palomita.
It was quite easy to extend the exploration in the desired direction, reducing the distance down to 160 feet, but at that point the cave became very small and the water flow, bringing sediment forward into the cave, inhibited visibility.
Additionally. I tried to make a connection from Hol Kin, but instability of the cave, and the large distance from the exit, made not feasible to continue, especially since there was already a connection on the side of Xunaan Ha up-stream.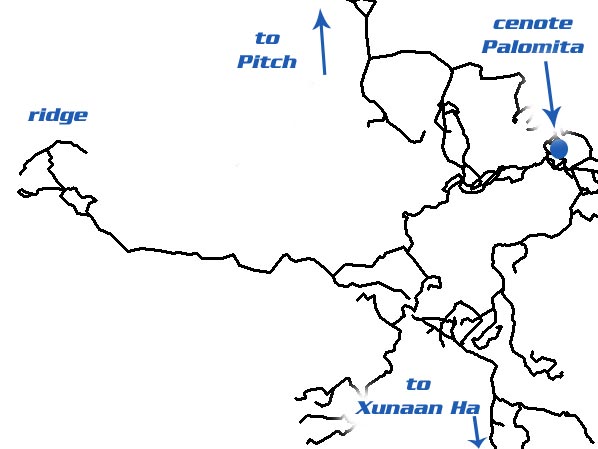 Between December 2009 and January 2010, I continued the exploration in the area of cenote Palomita, adding about 6500 feet / 2000 meters of new and very decorated caves, runnning towards the west.
This new branch has dual access, one very small, from the upstream section of Palomita in the direction of cenote Pitch, and one from the downstream section of Palomita where the cave goes into the deeper phreatic layer.
The water comes from very low fissure; small pieces of wood are on the floor of the cave, indicating that there is probably a cenote close by, but it was not possible to continue the exploration.